From Eyesore to Destination
The story of Maxfield Park centers around what makes the Batesville community great, its people. Danny Dozier, a well-known musician, handyman, civic leader, entrepreneur, and the list goes on, was the driving force behind turning what amounted to a collapsed building and forgotten part of Downtown Batesville into one of the most carefully constructed and unique public parks in Arkansas.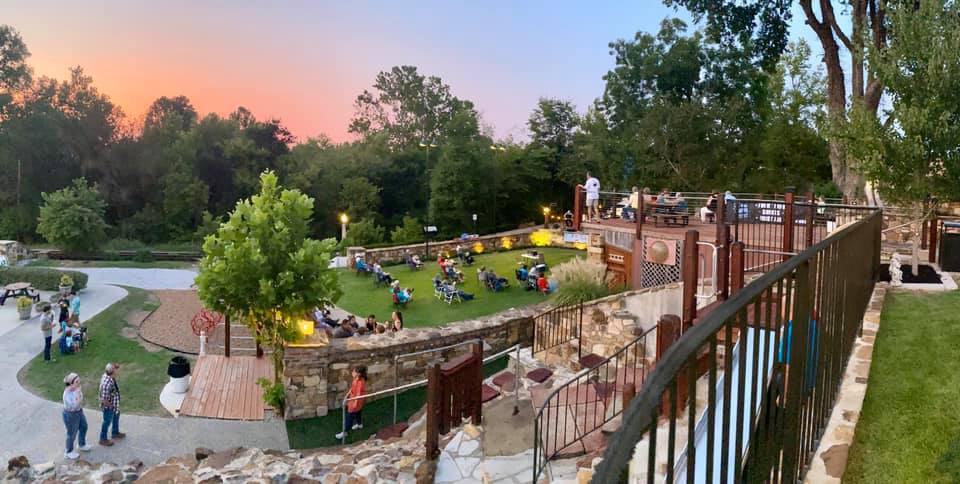 In 2015, Danny, who has been heavily involved in revitalizing Downtown Batesville, took it upon himself to secure a vacant and forgotten piece of property behind Main Street. He would seek funding for the project through donations and state grants alone. Over the next four years, Danny partnered with the Main Street Batesville organization to host dozens of fundraising events to help push the park further along.


The park itself is approximately a half acre and, for the most part, sits in the footprint of a collapsed building that at one time held a Studebaker buggy dealership and a bottling plant. Beaming with historical significance, Danny designed a park that perfectly complements the surrounding area. He used the sandstone blocks from the collapsed building to construct impressive walls surrounding the park, and other artifacts found during the construction were repurposed as décor. He even uncovered more functional pieces, like the street lamp that is prominently featured.

The park features a unique playscape for children that was designed out of repurposed equipment and materials. There is a stage for live music, numerous park benches, and the only public bathroom in the Downtown District. A gorgeous rock waterfall flow flows constantly behind a sculpture created by a local artist.

One of the most unique parts of the park is the close proximity to the Poke Bayou that flows just some fifty feet away. Future developments hope to provide easy access to those floating the bayou.

Vision, determination, and community support have turned a space that was once an eyesore into a destination that will further add to the attraction that is Historic Downtown Batesville.
For more information please visit: www.maxfieldpark.com
Blog brought to by Citizens Bank, which works to improve the quality of life for all community residents by promoting educational opportunities, economic growth, and innovative civic partnerships.