Ribbon-Cutting held for the new section of the City of Batesville's Greenway Trail
November 30, 2022 (Batesville, AR) — The Batesville Area Chamber of Commerce held a ribbon-cutting ceremony for the newest section of the Greenway trail in Batesville.
The Batesville Greenway is a multi-use trail designed for running, walking, cycling, and other forms of non-motorized transportation. The eight-foot-wide trail connects White River Health to the Batesville Community Center, Riverside Park, Municipal Golf Course, and Batesville High School and Junior High. The new half-mile section of the trail connects Chaney Drive, near the junior high, to Aberdeen Drive and features a beautiful 600-foot boardwalk as it meanders through the forest.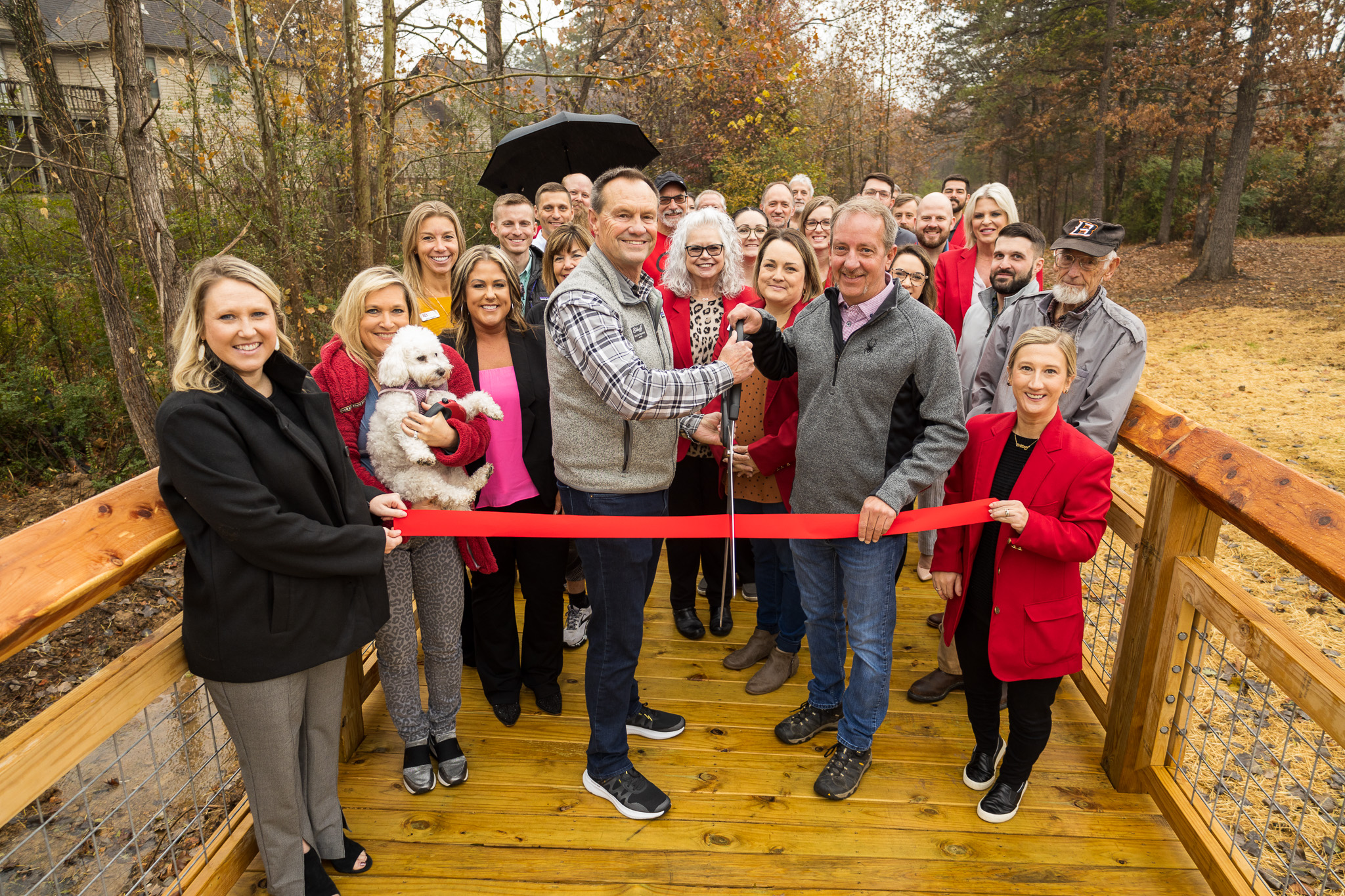 "When we engaged residents during the IMPACT Independence County plan development, we heard resounding support for the greenway trail and the City of Batesville's master pedestrian and cycling plan," said Chamber COO Jamie Rayford. "Residents wanted to see continual trail expansion."

City of Batesville Parks Director Jeff Owens said, "This section of the trail has been in the works for three years, and we are happy to open it today. It's a fantastic section of the trail—the boardwalk is about 600 feet long and was funded, in part, by a generous donation from the Eagle Mountain Property Association." Owens described future plans to continue expanding the path, "connecting neighborhoods around the city." .
Rayford congratulated city leadership and the parks and recreation department saying, "They have done a fabulous job in finding all of the resources and working through the many challenges to completing trail projects."
"We see this as a quality-of-life initiative and know how important that is to our residents," said Batesville Mayor Rick Elumbaugh. "We are thankful for our partners who knocked on doors, facilitated conversations, granted easements, generously donated, and advocated for this trail."
Future portions of the course will extend from Riverside Park toward Downtown Batesville and from Aberdeen Drive to Harrison Street near Walmart.
Ambassadors in attendance included: Amanda Bledsoe (Network of Community Options), Kyle Christopher (Kenny Allen State Farm), Cameron Cox (Wood Family Dealerships), Adam Curtwright (Centennial Bank), Amy Finster (White River Health), Tammy Foster (First Community Bank), Brittney Harris (Independence Off Road), Eva Henriken (Merchants & Planters Bank), Julie Hinkle (Bank of Cave City), Courteney Muse (Southern Bank), Megan Renihan (Batesville School District), Justin Russell (Bank of Cave City), and Brooke Stevenson (Stevenson Paralegal Services).