BACC helps unveil Cedar Ridge's Book Vending Machine
March 21, 2023 (Batesville, AR) — The Batesville Area Chamber of Commerce (BACC) held a Ribbon-Cutting ceremony for Cedar Ridge Elementary School's new book vending machine.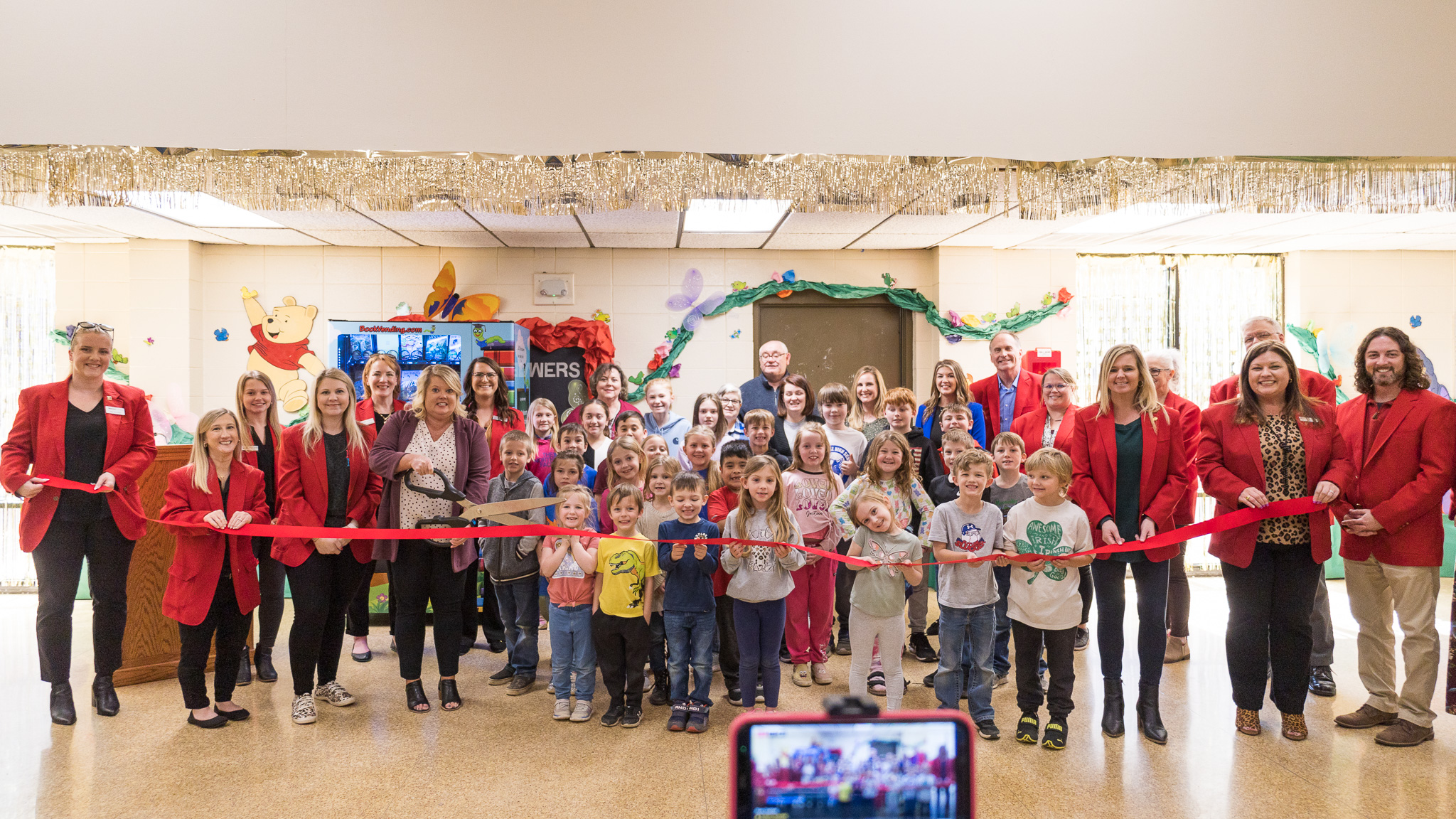 Located in Newark, Arkansas, Cedar Ridge Schools serves over 600 preschool through twelfth-grade students from a 270-square-mile area — including Charlotte, Cord, Magness, Newark, Oil Trough, Thida, and more. The new book vending machine incentivizes students to read in a fun and creative way.

With the help of the Arkansas SOAR grant, the Elementary is bringing students the latest technology in book displays. The new "Bookworm Vending Machine" showcases newly released books and novels for all ages. Students can select new books and showcase their knowledge through reading.
"We're so excited to be here to help Cedar Ridge unveil their new book vending machine," said Sarah Barnhill, BACC Director of Membership and Programs. "The new book vending machine will help build a culture of reading, as identified by residents as a strategic opportunity for our area to cultivate the skills and talents of students and strengthen the workforce pipeline in the IMPACT Independence County plan."
Barnhill concluded by recognizing the dedication to student growth, highlighting the work of Tracy Owens (Cedar Ridge Superintendent), Abby Limbaugh (Director of Curriculum and Instruction), Rita Jennings (RISE Facilitator), Carol Woods (Gifted and Talented), David Ward (Alternative Learning Environments), Shirl Nelson (Library Media Specialist), Megan Carpenter (Kindergarten Teacher), and Stacy Young (Elementary Counselor).
Ambassadors in attendance included: Sijle Antosen (Weichert, Realtors - The Property Shoppe), Amy Crouch-Howard (Weichert, Realtors - The Property Shoppe), Amanda Dickey (Block Insurance), Mary Duvall (Bad Boy Mowers), Ashley Engles (Citizens Bank), Brittney Harris (Independence Off Road), Kirsten Harvey (Arkansas Sherrif's Youth Ranch), Eva Henriksen (Merchants & Planters Bank), Aaron Herndon (Citizens Bank), Michael Kelley (Peco Foods), Megan Renihan (Batesville School District), Lori Tacker (Batesville Eye Care Center), Christina Watts (LaCroix Precision Optics), and Chad Whiteaker (White River Now).