The Historic Melba Theater roars back to life (again)
The iconic Melba Theater, located in historic downtown Batesville, has been the crown jewel of the local entertainment scene since its restoration was completed in August 2016.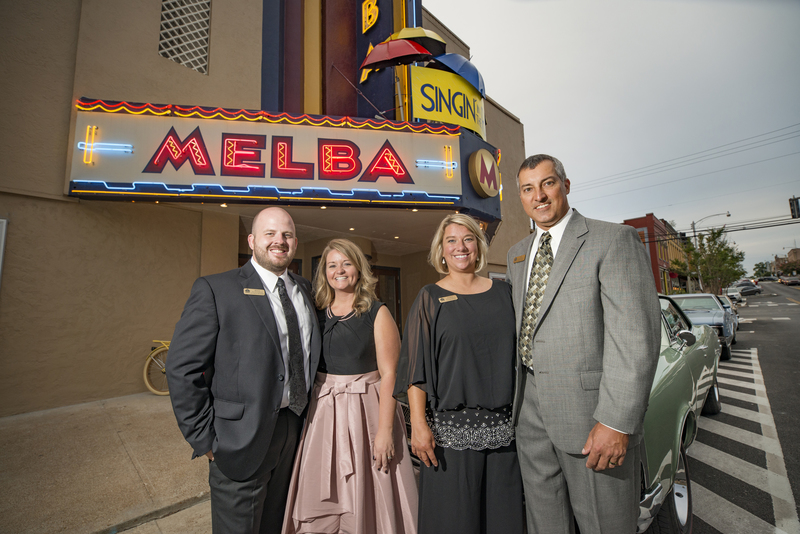 The building, with roots dating to 1875, came roaring back to life with an elegant black-tie grand re-opening, a festive social event featuring an actual red carpet welcome for moviegoers.

Despite immense popularity since its rebirth, the Melba Theater's marquee and its projector went dark earlier this year, along with nearly all businesses everywhere, as the deadly COVID-19 virus spread across Asia and Europe, and eventually to the U.S.
The owners of the Melba Theater did what they had to do to protect their customers, with a pledge to re-open when the pandemic subsides and it becomes safe to do so. The shutdown decision came after Mandi and Adam Curtwright and Janelle and Joe Shell followed reports about the rapid spread of the virus.
"The media and government issued conflicting reports, so we had to hang on for a while to find out what it all was going to mean," said Joe Shell. "We took it one week at time, but it became obvious we couldn't stay open."
By shutting down the theater, Shell said, the owners were faced with a series of challenges.The immediate challenge was financial, with loan payments due and a payroll that was suddenly threatened."We can't show movies and sell concessions, so there is no revenue coming in," Shell said.
"For our latest theater remodel, we took out a significant loan, and so we have to reopen at some point to keep up with the payments. While not cash rich, we had a little money set aside for an emergency – and this is that emergency."
Meeting with Micah Beard of Citizens Bank, the Melba owners initially arranged for interest only payments and deferred payments through the bank's People First Financial Protection Program. "Citizens Bank seemed to get that done in a matter of moments," Shell said, which was followed by an application and successful funding of a loan through the Paycheck Protection Program.
"We are grateful for Citizens Bank's rapid response to our needs," Shell said.
The theater still has challenges, including how, when, and under what restrictions it can reopen. "The PPP loan and the other help from Citizens Bank has given us the time to hold on," Shell said. "Once we can open our doors again, we certainly will. Even if we have to do only a limited opening, we will do what it takes to make it work."
Despite the challenges, he stressed the importance of maintaining perspective in responding to the pandemic.
"There are so many people facing incredibly greater challenges – our military in war zones, or people who have cancer," Shell said. "A business setback is just that, a setback. There are true hardships in life, and for us, this is just a setback. We need to remember that there are a lot of people who are having it a lot harder than we are."
Shell said he and his co-owners "view this town as our family and we want to get back to our family as soon as we can."