Old Fashioned Christmas
From gingerbread workshops to carols, Main Street Batesville comes alive with the sights, sounds, and aromas of an old-fashioned Christmas. Hear live performances of traditional Christmas music as you browse local businesses. Learn more at mainstreetbatesville.org.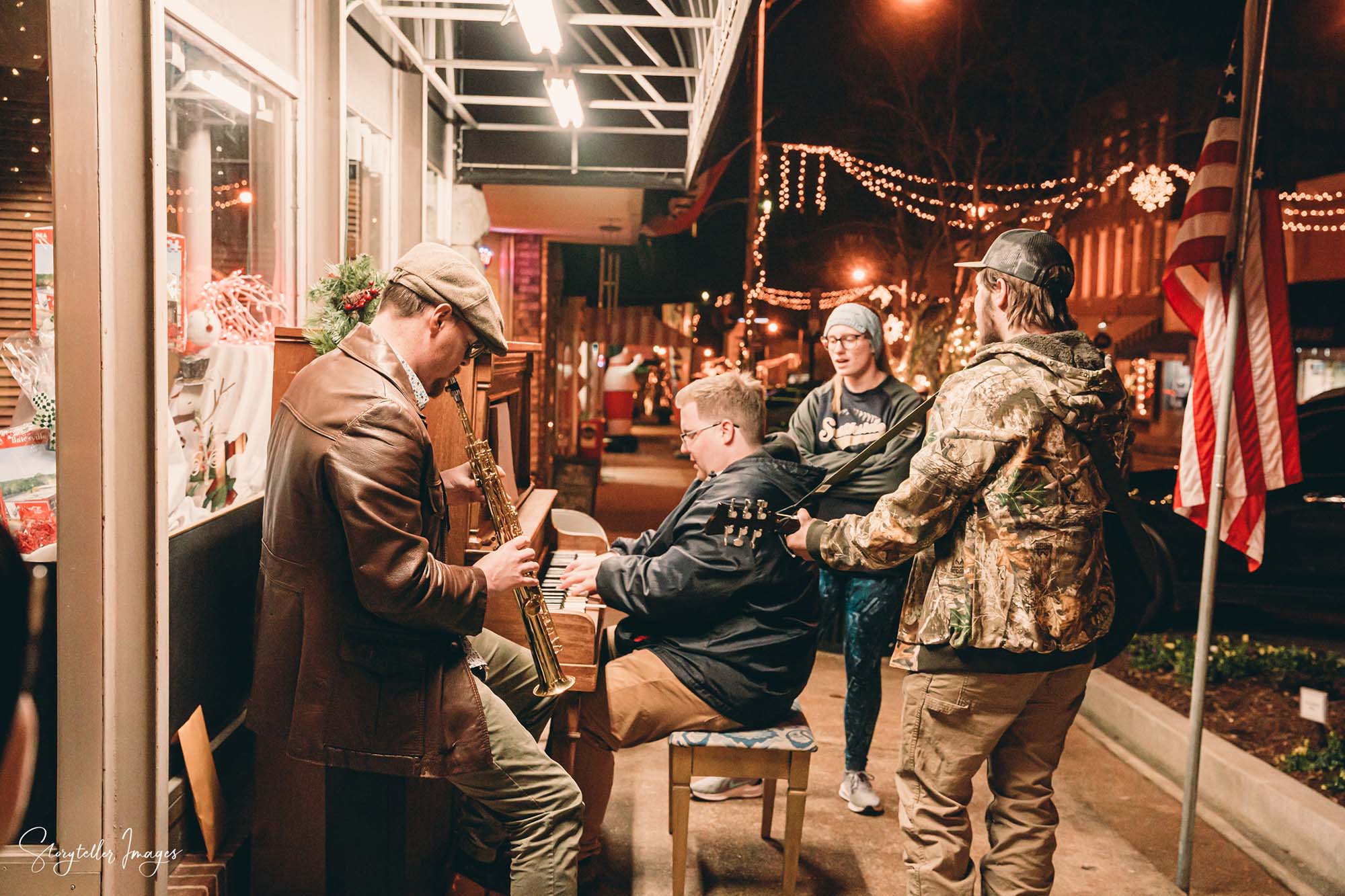 There is no more authentic place to celebrate the simple goodness of the holidays than in Batesville, Arkansas, where the season's warmth radiates from local shops and people you meet. A big part of our local area revolves around our history.
Main Street Batesville, the Old Independence Regional Museum, and the Batesville Preservation Society have partnered to present the 2022 Old Fashioned Christmas event. There will be something for everyone, from
family crafts, heritage skills demonstrations, and living history pop-ups to a Yule log Hunt and a Quilt Walk Tour.
Burning a Yule log is probably the oldest winter tradition there is. The ritual burning of a special log during winter solstice has taken place worldwide for thousands of years. Before Old-Fashioned Christmas, individuals can participate by grabbing a log from their fire pile and decorate it with flammable decorations. There will be a hunt and all Yule logs will be part of the burning wood for the s'mores fire pits inside the Pocket Park on evening of December 9. Prizes will be given to anyone who participates by decorating a Yule log.
The Quilt Walk will be the first-ever event of this type in Batesville. OIRM will partner with Batesville Preservation Association to showcase historic homes while showcasing a kaleidoscope of colors and patterns within the various quilts. The quilts will be displayed on the exterior of pre-selected homes. The pathway will connect OIRM to Main Street. Along the route, there will be caroling and hot chocolate. Ruth Kent Cook teaches a quilting class at the museum and travels across the nation to various quilting events. She will be helping with the execution of this event and marketing.
Living history pop-ups will include demonstrations in business window displays and along the sidewalks.
Friday, December 9

Fire Pits & S'mores
Christmas Sing-a-longs with Luke Middleton
6 p.m. • Maxfield Park
Folk Music featuring The Sparrows
7 p.m. • Maxfield Park
Saturday, December 10

Breakfast with Santa
8 a.m. • First Presbyterian Church • $7.50
Vendors, Games, and Activities
10 a.m.

•

Fellowship Bible Church
Vendors, Crafts, and Demos
10 a.m. • Old Independence Regional Museum
Quilt Walk Begins
11 a.m. • Departs from Old Independence Regional Museum
Batesville High School Choir
11:30 a.m. • Fellowship Bible Church
Storytime & Giveaways
12:30 p.m. •
Fellowship Bible Church
Music by Danny Dozier
1 p.m. •
• Fellowship Bible Church
Music by First Baptist Church
2 p.m. • Fellowship Bible Church
Batesville Brass Society
3 p.m. •
Fellowship Bible Church
"Spirited" Movie
3:30 p.m. • The Melba • $4
Music by the Natural Disasters
4 p.m. •
Fellowship Bible Church
2022 Kiwanis Christmas Parade
6 p.m. • Main Street
"Spirited" Movie
7 p.m. • The Melba • $4
Christmas Karaoke
7:30 p.m. •
Fellowship Bible Church