Vital Link EMS breaks ground on new facility in Southside
The Batesville Area Chamber of Commerce held a groundbreaking ceremony for Vital Link EMS.

Vital Link provides advanced life support emergency and non-emergency medical services to Independence, Izard, Stone, and surrounding counties in Arkansas. A partnership with Southside School District has provided an ideal location for this base of operations.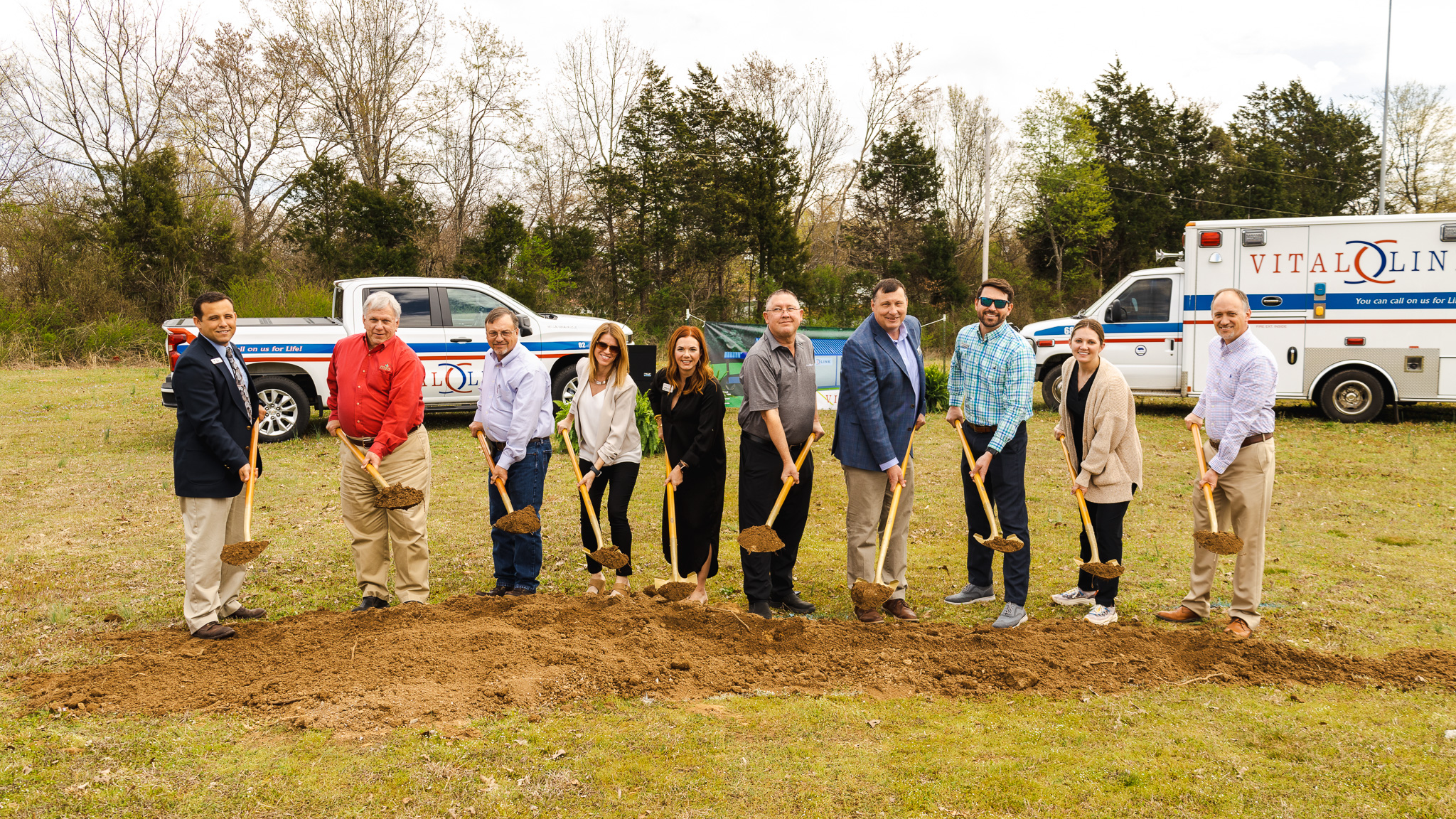 For 40 years, Vital Link has served Independence County with emergency response, inter-facility transfers, sporting events, fire stand-bys, and helping people up when they fall.


"When we thought about how we could improve our service to our community, there was one thing at the top of the list: building a base in Southside," said Vital Link CEO Kathy Lanier. "This new facility represents a significant investment in the health and well-being of our community and would not be possible without the collaborative work of many individuals and organizations. Breaking ground here marks the beginning of a new chapter in our community. This new ambulance base will be a critical hub for emergency medical services in Southside and southern Independence County."

In 2012, then-superintendent of Southside, Roger Rich, contacted Vital Link and immediately made space available for emergency response personnel. In the years since, Vital Link has posted a crew on Southside's campus daily. Lanier continued, "We decided 2023 was the year we would build the new facility in Southside. Without Dion Stevens, Roger Rich, and the Southside School District, we would not have this ideal location."

"Mr. Rich and our School Board have always shared the same vision: If it benefits kids and the community, we try to make it happen," said Southside School District Superintendent Dion Stevens. "Partnerships like this are easy when you share the same goal of caring for the people in our community."

"The new facility will provide a modern space for our staff to work from and will be equipped with the latest technologies and equipment to ensure that we can continue to provide the highest level of care to our patients," continued Lanier. "Crews stationed at the Southside base will continue to respond to calls throughout Independence County. We hope that shifting a full-time crew to the area will bring new peace of mind to residents and quicker response times."

With the construction of this new ambulance base, Vital Link will be better equipped to respond to emergencies and provide life-saving care to those in need. Whether it's a car accident, heart attack, or any other medical emergency, highly trained personnel will be ready to respond quickly and efficiently.

"This Vital Link project is a great example of strong community partnerships. It's a project we can all be very proud of," said BACC CEO Crystal Johnson.

Ambassadors in attendance included: Amanda Bledsoe (Network of Community Options), Lori Campbell (Batesville School District), Amy Crouch-Howard (Weichert, Realtors - The Property Shoppe), Amanda Dickey (Block Insurance), Mary Duvall (Bad Boy Mowers), Ashley Engles (Citizens Bank), Tammy Foster (First Community Bank), Brittney Harris (Independence Off Road), Kirsten Harvey (Arkansas Sherrif's Youth Ranch), Eva Henriksen (Merchants & Planters Bank), Aaron Herndon (Citizens Bank), Michael Kelley (Peco Foods), Aaron Moody (Independence County Sheriff's Department), Lori Tacker (Batesville Eye Care Center), Christina Watts (LaCroix Precision Optics), and Kimberly Williams (First Community Bank).