Jedidiah Bates Sculpture Unveiled at Batesville Homecoming
Friday, October 21, 2022 (Batesville, AR) — The Batesville Area Chamber of Commerce held a ribbon-cutting at Batesville High School charter earlier this month. The ceremony, held at the entrance of the building, was for the unveiling of Jedediah Bates, a 9-foot-tall wood-carved Pioneer statue.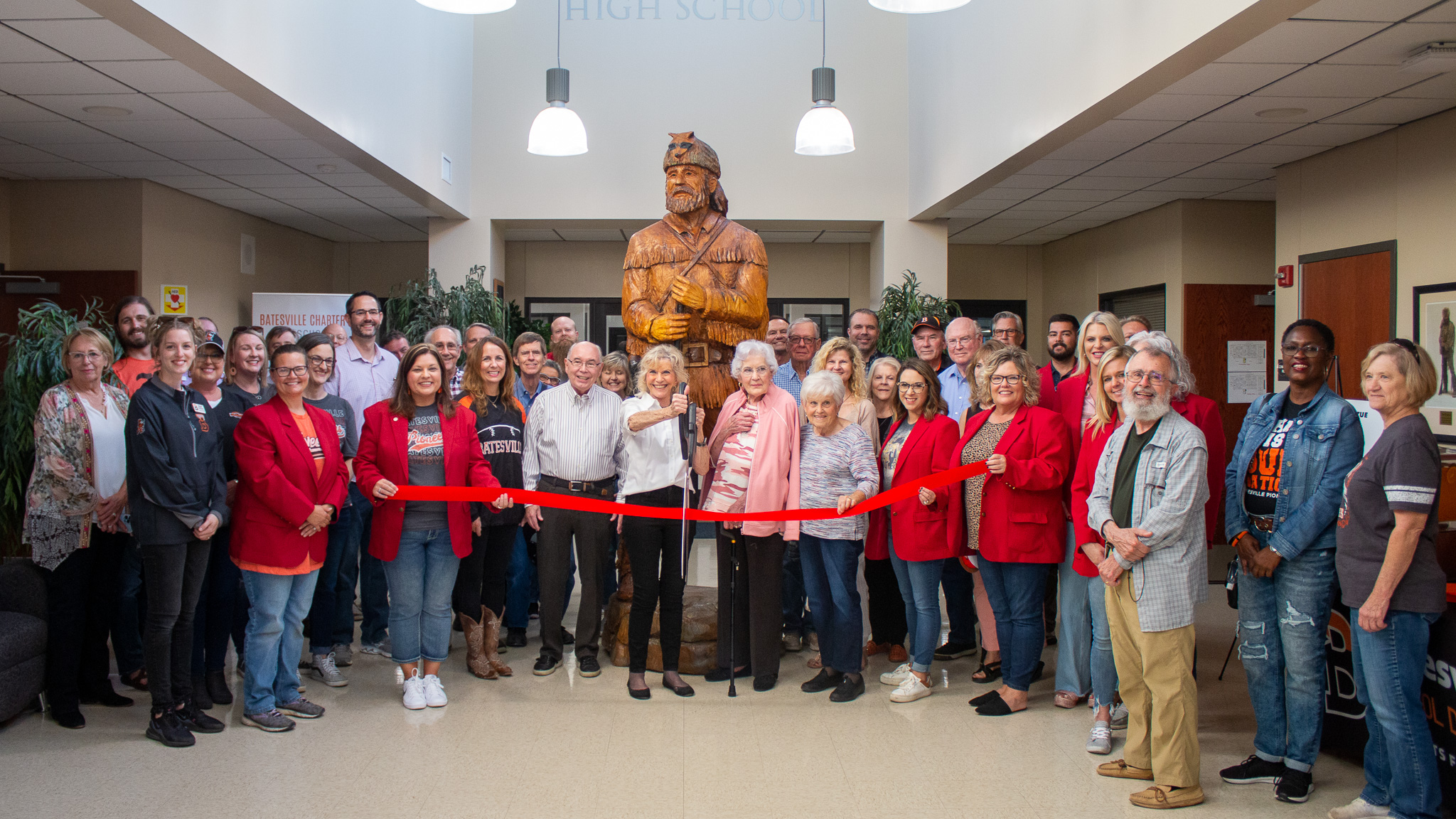 "We are so proud to introduce and dedicate the BHS Pioneer Statue," said BHS Pioneer Statue committee member Kay Sutherland. "Without the efforts of Nelson Barnett, John Boykin, all of our committee members, and generous donors, we could not have completed the project."
The sculpture and name were inspired by the original pioneers who ventured up the White River and settled in the area.
Ned Metcalf, a committee member, lauded Nelson Barnett for leading the project, saying, "Nelson gets credit for the inception of the sculpture—he convened our committee, and we began raising funds for this project over a year ago."
The carving of Bates, based on the original Pioneer mascot, was created by Oklahoma artist Clayton Coss using wood from a large sycamore tree found under the Golden Overpass on the banks of the Poke Bayou.
"We are so thankful for those who gave to this project and the incredible artist who worked on this statue," stated Metcalf.
The project, spearheaded by a group of Batesville High School graduates from the 1950s and 60s, aims to remind staff and students of the pride and courage of a pioneer.
"Our family just adored Batesville, and we love being Pioneers," said Senator Missy Irving. "This is such a great legacy to a great public school in the state of Arkansas."
"On behalf of the board of directors for the Batesville School District, Thank you so much," said BSD Board President Scott Fredericks. "This is an excellent example of a community-led partnership. Generations of future Pioneers will see this and feel pride in being a Pioneer."
"This committee has done a great job. This sculpture is incredible," said Batesville Mayor Rick Elumbaugh.
Ambassadors in attendance included: Cameron Cox (Wood Family Dealerships), Amanda Dickey (Block Insurance), Ashley Engles (Citizens Bank) Genafer Foree (Goodwill Arkansas), Tammy Foster (First Community Bank), Eva Henriken (Merchants and Planters Bank), Lindy Hopper (First Community Bank), Courteney Muse (Southern Bank), and Justin Russell (Bank of Cave City).