Chamber holds Ribbon Cutting for Hall of Opportunity at Lyon College
The Batesville Area Chamber of Commerce held a Ribbon-Cutting ceremony for the unveiling of a portrait gallery featuring Donors of Endowed Scholarships at Lyon College in Batesville.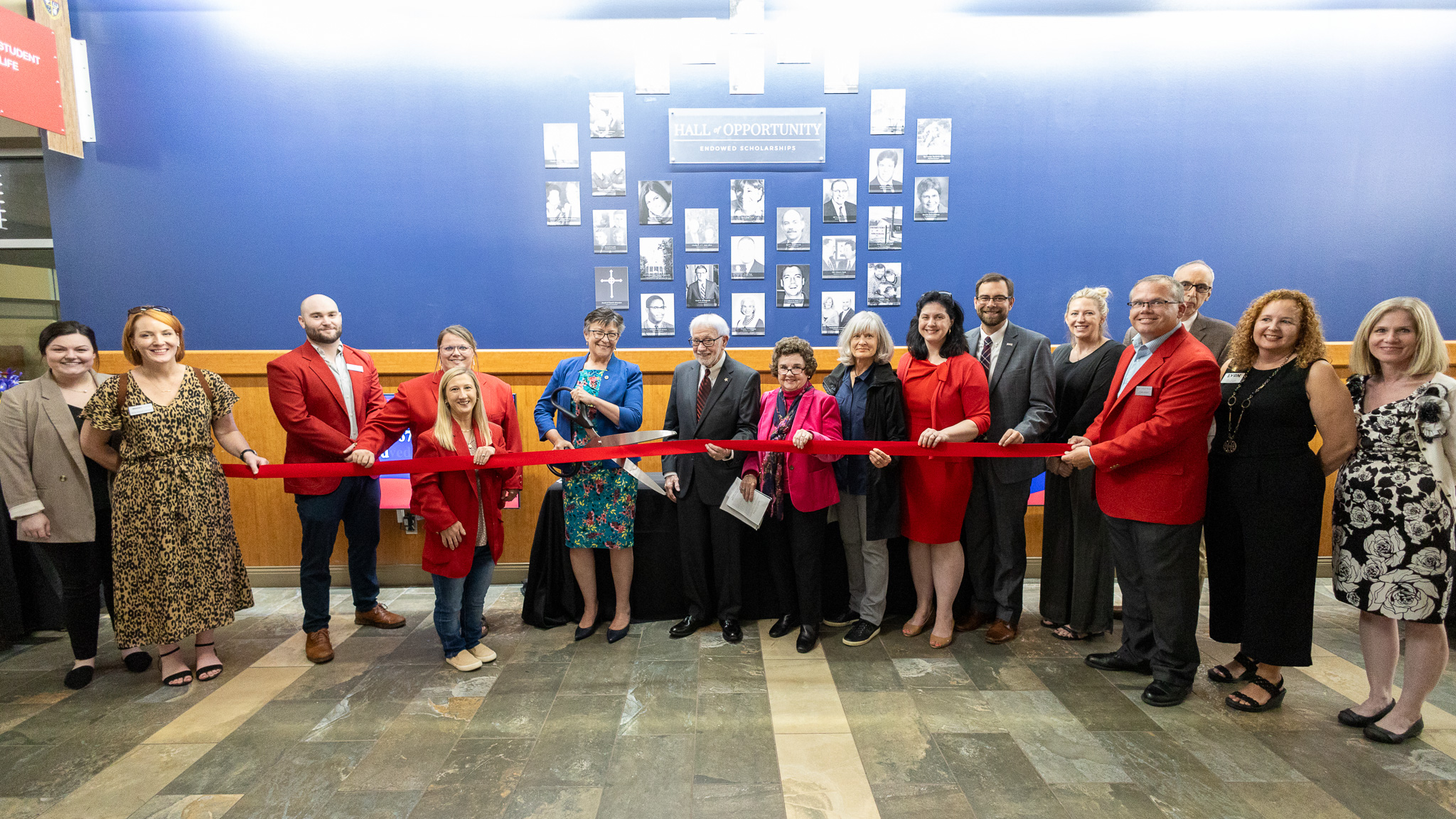 One of the oldest colleges in Arkansas, Lyon College provides a four-year liberal arts education with a focus on service and experiential learning, while providing small class sizes and strong faculty-student interactions. The Hall of Opportunity at Lyon emphasizes the importance of Endowed Scholarships for many Lyon students-- enabling them to pursue higher education by alleviating financial burdens.

"This is a really special event for us," began Lyon College President Dr. Melissa Taverner. "We've not had an opportunity to connect our incredible generous donors of long standing with our students. This is a moment of connection, and it's a moment of connection we hope and we are confident will continue into the future."
While the Hall of Opportunity is a new display, the story and impact of Endowed Scholarships has a long history at Lyon, with the first Endowed Scholarship received by a student in the 1950s. Currently, Lyon has close to 100 Endowed Scholarships, and in the words of Vice President for Advancement David Hutchison: "these scholarships are the cornerstone of what makes a liberal arts education possible at a school like Lyon College."
The Endowed Scholarships and donors featured on the Hall of Opportunity each have at least 25 thousand dollars fundraised, which translates to approximately 1 thousand in annual scholarship funds to an individual student, while the larger scholarships provide aid to multiple students or cover additional tuition. Many of the scholarships are dedicated to specific demographic or variable requirements including first-generation students, intended major, or place of residence.
"All of these [scholarships] come together to represent a great act of philanthropy and providing for our students," explained Hutchison right before a canvas wall was removed to unveil the portraits.
"We're passionate about the people who make education possible here, and we're passionate about our donors," continued Hutchison. "It's been a labor of love to get to know the story behind each and every one of these and the many scholarships that are represented here on the screens."
The story of one scholarship was told by Donors David and Ann Allen. The Allens explained how their desire to "support especially those students who the financial aspects of getting a Bachelor of Arts degree here at Lyon might be difficult to them" was driven in large part by the impact that financial assistance they received from scholarships and benefactors made on them during their college career. Mr. Allen described how his supporters "wanted me to achieve, not to give up, not to quit," and how they in turn want to see students achieve through their support. "We want to encourage and model constant and never ended philanthropy into perpetuity," concluded Mrs. Allen.
Hutchison thought it best to share the impact of Endowed Scholarships through the words of a freshman scholarship recipient: "I'm so glad I've been able to attend Lyon college. Without the help of scholarships, college would not have been a financially attainable choice for me. Lyon has become very dear to me. Where I have made the best memories. A liberal arts education has shaped me into a community oriented, well rounded and intentional individual."
Ambassadors in attendance included: Amy Crouch-Howard (Weichert, Realtors - The Property Shoppe), Mary Duvall (Bad Boy, Inc), John High (Qualls Batesville Funeral Service), Peter Rouiler (First Community Bank), and Brittney Harris (Independence Off Road).