Chamber Gala Draws Sold Out Crowd to Honor Businesses Post-Pandemic
January 28, 2023 (Batesville, AR) — The Batesville Area Chamber of Commerce's (BACC) Annual Meeting and Gala was held on Friday, January 27, at the Batesville Community Center. The "Night at the Oscars" themed event attracted five hundred guests and awarded outstanding businesses and individuals for the first time post-pandemic.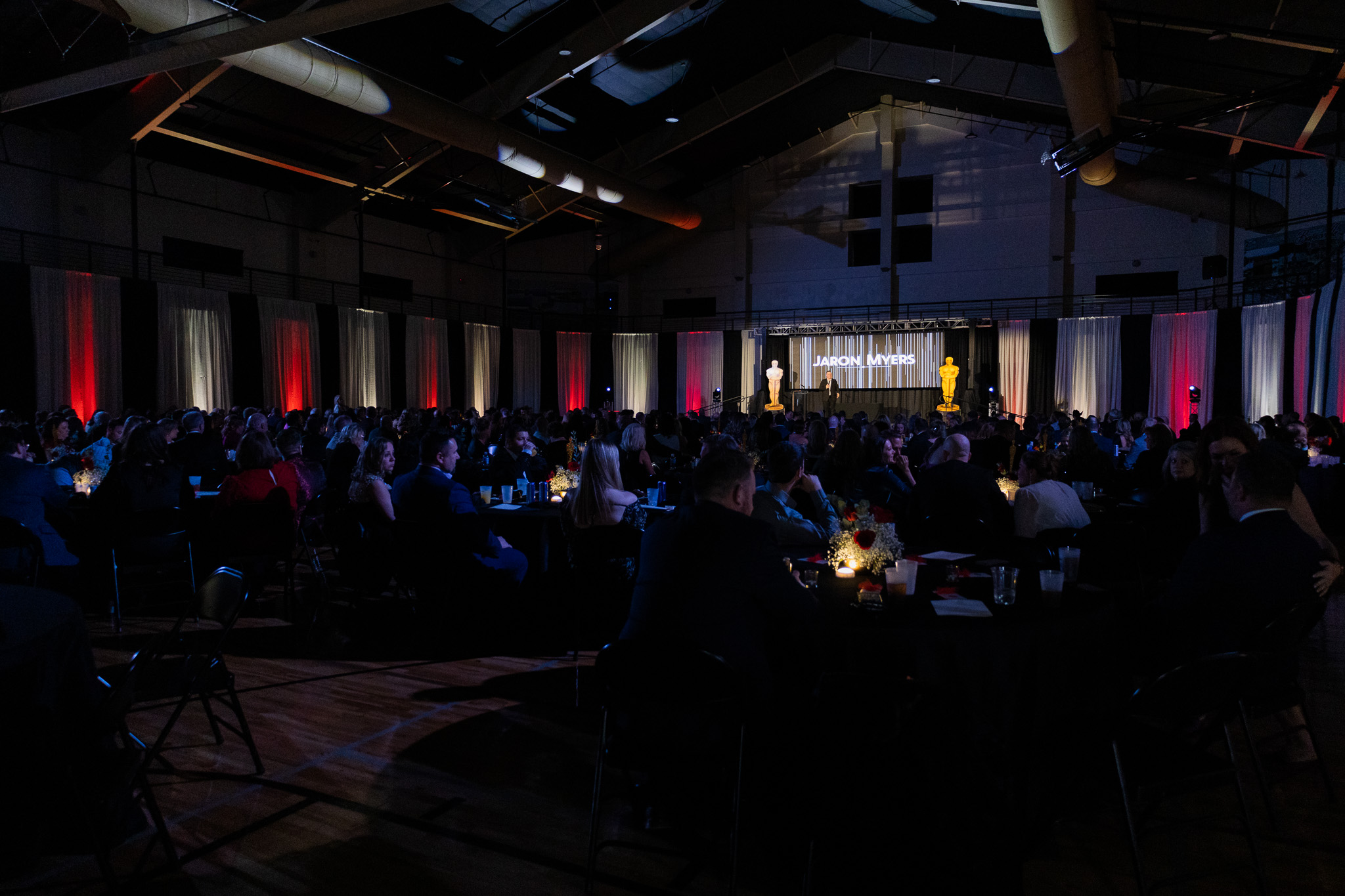 "We were excited to return to the normalcy of recognizing the outstanding work and outcomes of our residents," said Jamie Rayford, BACC's Chief Operating Officer. "We found unique ways to celebrate progress and people throughout the pandemic. Still, there is just something about honoring people in person at this special ceremony,"
The Chamber was unable to hold the event in person in 2021, opting to honor individuals in a year-long "Spirit of Independence" campaign. While the event returned in 2022, it was plagued with the entrance of the omicron variant of COVID-19, which shrunk the event significantly just days before it was hosted.
"Our presenting sponsor, First Community Bank, and our event partners, Bad Boy Mowers, M & A Construction, Hampton Inn, Peco Foods, the University of Arkansas Community College at Batesville, and White River Health, were thrilled to partner in hosting our largest Annual Meeting yet," continued Rayford. "They have not only been supporters of our work, but they understand the importance of building community momentum through this annual gathering, "
The event followed an "Oscars" format, with TikTok comedic sensation Jaron Myers hosting the awards portion of the show. Among those winning awards were: Lifeplus International (Excellence in Business); Excel by 8's LENA project (Community Collaboration); Community Insurance Professionals (Excellence in Customer Focus); Jennifer Sandage, Chief Nursing Officer for White River Health (Leader in Health Care); Batesville School District's Pioneers RISE (Leader in Education); Southside Family Chiropractic (New Member of the Year); and Tammy Foster of First Community Bank (Chamber Ambassador of the Year).
The 2022 Leadership Batesville Class also graduated from the 9-month program Friday night. Graduates include Kevin Bledsoe (Batesville School District), Amy Bullard (UACCB), Taylor Cothern (M & A Jones Construction, a FARCO Company), Kristi Cox (Batesville School District), Katherine Dunegan (Gross Therapy Services), Mary Duvall (Bad Boy Mowers), Carson Grant (White River Planning and Development District), Angie Hooker (Citizens Bank), David Justice (City of Batesville), Jordan Layrock (Bad Boy Mowers), Ronald Mergy (Grandhands.org), Micah Moody (White River Health), Justin Russell (The Bank of Cave City), Karen Savell (Citizens Bank), Brittney Scarbrough (First Community Bank), Cassandra Skelton (Centennial Bank), Kristopher Wyatt (Ozark Technology).
The gala kicked off with laughs provided by comedian Jaron Myers who closed the show with a message for audience members to "look for joy" in 2023, and a live set DJ and 360-degree photo booth entertained guests through the evening.