Chamber Announces Business Expo
The Batesville Area Chamber of Commerce proudly announces dates for its Business Expo, presented by FNBC, scheduled for Wednesday, June 7, 2023, from 11 a.m. to 3 p.m. This year's theme is "Game Show," and is designed to be fun, engaging, and competitive.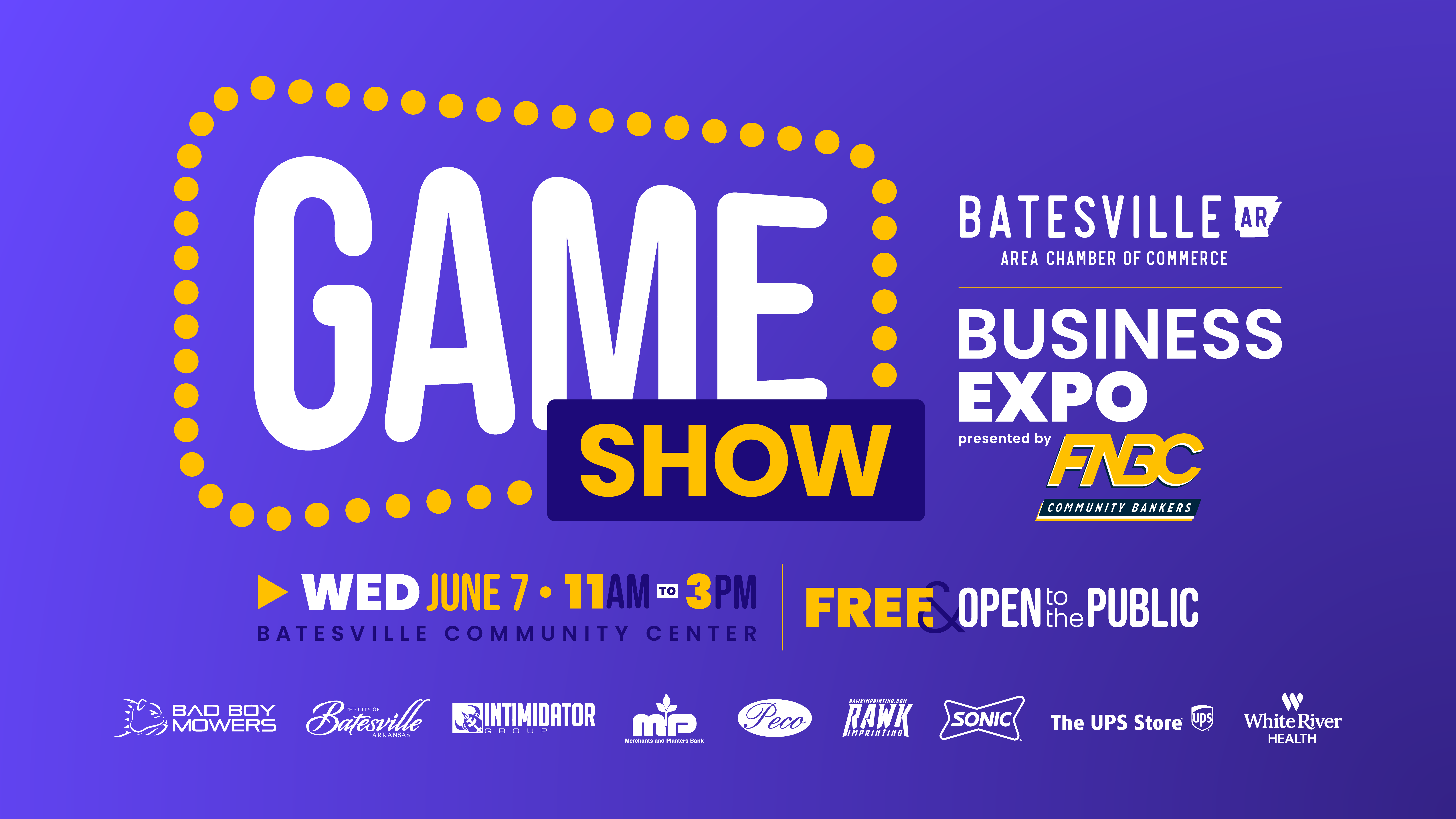 Vendors are encouraged to decorate their booth just like their favorite television game shows, like "Wheel of Fortune," "Minute to Win It," or "Jeopardy." An award will be given to the most festive booth. Exhibitor registration is now open.
The event will be held at the Batesville Community Center and is free and open to the public. All community members are invited to 'come on down.'
"We are excited to see local businesses connect with thousands of potential customers under one roof," said Sarah Barnhill, BACC's Director of Memberships and Programs. "We are ready to see familiar faces and welcome new vendors this year. We are adding booth spaces and activities to this growing event."
Vendors are also encouraged to offer giveaways, hold creative contests, or demonstrate products/services to generate traffic for their booth.
"Our Business Expo is the perfect platform to network, learn, and have fun," continued Barnhill. "Join us for a day filled with excitement and entertainment. You'll leave with new knowledge, new connections, and maybe even a prize or two!"
The Business Expo will be open to the public from 11 a.m. to 3 p.m.
The business-to-business trade show, available exclusively to participating vendors, will occur at 10 a.m. A Taste of the Chamber, featuring local cuisine served by Chamber members, will be held from 11 a.m. to 1 p.m.
The Business Expo features a Kids Zone with activities for kids and a Career Showcase, encouraging visitors to learn about current job openings. The Kids Zone and Career Showcase will occur from 11 a.m. to 3 p.m.
"The expo continues to be a community tradition and the best way for our businesses to showcase products and services," Barnhill concluded. "This event was created to promote member services and products to the community. I am proud that we have built a reputation for hosting one of the region's best and biggest trade shows."
FNBC presents the expo with additional support from Bad Boy Mowers, the City of Batesville, Intimidator Group, Merchants & Planters Bank, Peco Foods, RAWK Imprinting, Sonic Drive-In, the UPS Store, and White River Health.
Learn more about the 2023 Business Expo at batesvilleareachamber.com or contact Sarah Barnhill at membership@batesvilleareachamber.com.