Batesville High School Charter and Intimidator Group celebrate new Engineering Pathway
The Batesville Area Chamber of Commerce held a ribbon-cutting ceremony to celebrate the new Engineering Pathway, a partnership between Batesville High School Charter and the Intimidator Group on August 11, 2023.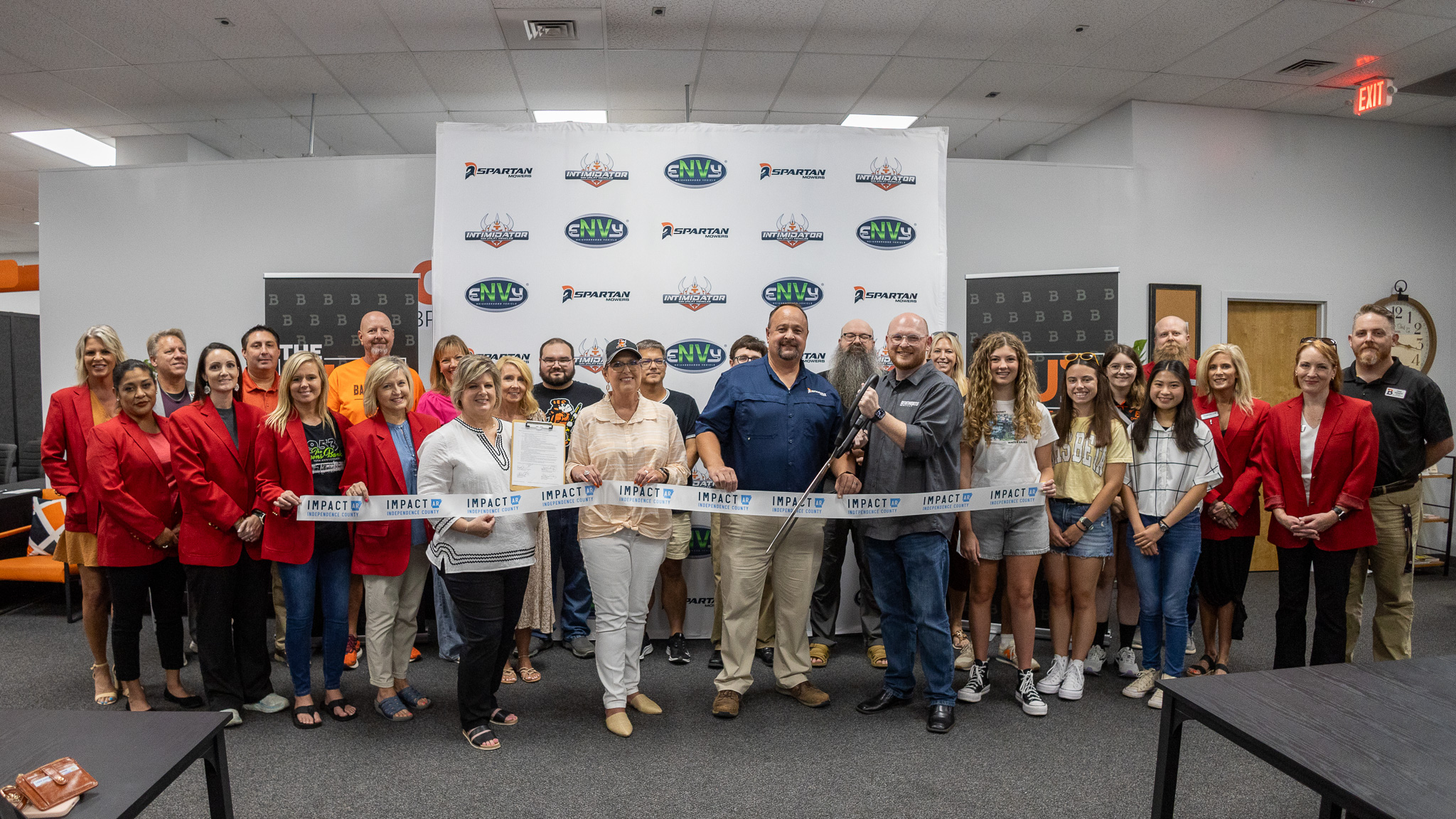 "The Engineering Pathway partnership between Intimidator Group and Batesville High School will help prepare students to fill a local workforce need," explained BACC CEO Crystal Johnson. "It's a great example of IMPACT Independence County's educational excellence strategic plan in action."

The idea for the Engineering Pathway began around a year ago when the Intimidator Group faced difficulty recruiting new hires for their engineering department, and they began exploring a "grow your own" talent strategy.
"We discovered a disconnect between what we thought students knew about engineering and what they actually knew," explained Wiley Osborn, Director of Human Resources at Intimidator Group. "They weren't aware of the diversity within engineering, what steps to take, or what classes to pursue."
Intimidator Group contacted Batesville School District Community Schools Coordinator Laura Howard to start discussions on introducing students to engineering concepts and preparing them for potential future careers within The Toro Company, parent company of Intimidator Group. The Engineering Pathway is a result of those discussions.
The Engineering Pathway, scheduled to begin in the 2023/2024 academic year, is open to ninth- through twelfth-grade Batesville High School Charter students. Students will take special math and science courses with engineering emphases.
The Toro Company and Intimidator Group engineers will facilitate project-based learning experiences. Other program highlights include a trip to The Toro Company headquarters in Minnesota, apprenticeship and post-secondary internship opportunities, and letters of recommendation for acceptance into post-secondary engineering programs.
"We're going to help demonstrate what engineering is all about through immersive experiences," explained Intimidator Group Director of Engineering Jeremy Gill. "We're going to participate with students in project-based, team-based learning activities to help build some of those soft skills we're looking for in future engineers and employees. We think this is a great opportunity to work with students in the community to show them a path forward in engineering."
Batesville School District Superintendent Dr. Michael Hester explained how the new program achieves career exploration goals for IMPACT Independence County and the Batesville School District, saying, "Students don't always know what they want to be when they grow up, so putting those options out there in front of them gives them a chance to see and experiment."
Additionally, the program achieves another educational excellence objective: developing educational initiatives that create a viable workforce. "We believe we have created a pathway that will spark an interest in engineering and allow students to begin a journey to a successful future career," Osborn explained.
Before the ribbon-cutting concluded, BHSC Principal Stacy Lindsey, Dr. Hester, Gill, and Osborn signed documents to make the Engineering Pathway official.
Ambassadors in attendance included: Lori Campbell (Batesville School District), Amy Crouch-Howard (Weichert, Realtors - The Property Shoppe), Ashley Engles (Citizens Bank), Amy Finster (White River Health), Tammy Foster (First Community Bank), Dana Millikin (White River Now), Justin Russell (Bank of Cave City), and Lucy Rodriguez (George's Inc).