Batesville Community Center's Digital Media Sign celebrates Ribbon Cutting.
The Batesville Area Chamber of Commerce held a ribbon-cutting ceremony for the Batesville Community Center's digital media sign donated by First Community Bank.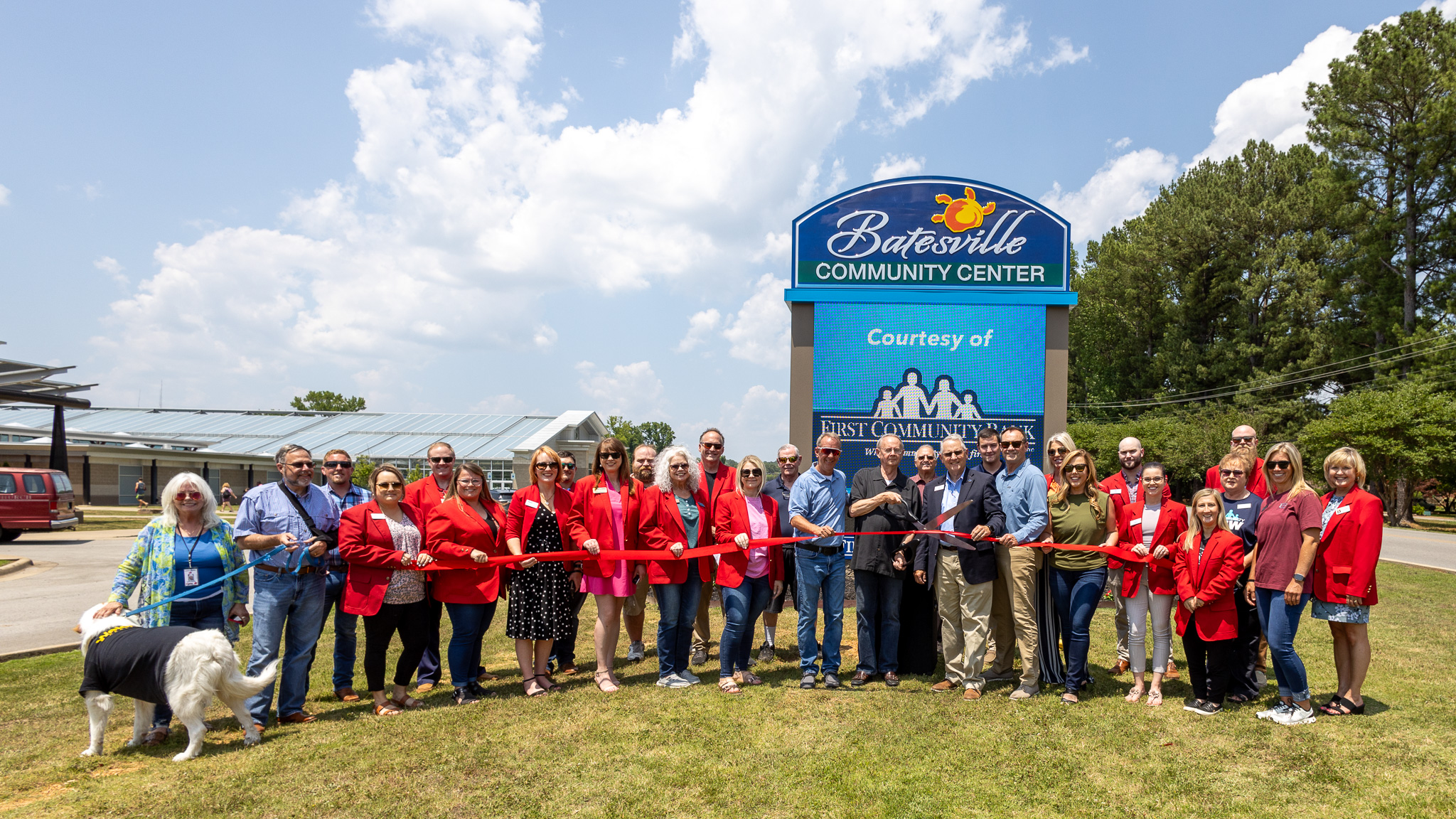 Operated by the City of Batesville's Parks and Recreation Department, the Batesville Community Center offers residents and visitors a place to exercise, play sports, and hold events. Added six years after the completion of the Community Center, the digital media sign enables the Parks and Recreation Department to easily promote and raise awareness for local events and opportunities.
In the last twelve months, parks across Batesville had over 1.7 million visitors, with the Community Center having 80 thousand unique visitors. The road running beside the Community Center, where the digital media sign is on display, has an average of six thousand daily traffic counts. "Recreational opportunities continue to be the number one thing instrumental in increasing our quality of life, and we have an abundance of those in Independence County. We're very, very lucky that we have a Parks and Recreation Department that supports and is continually seeking improvements and additions but more importantly, that is communicating what's available to the people here, and the digital media sign helps us do that every single day," said BACC Chief Operating Officer Jamie Rayford.
In addition to quality of life for residents, the Community Center and other parks in Batesville bring in outside revenue to support local businesses and funnel tax dollars into the city. "Just this last weekend, we had over 130 basketball teams here in Batesville for a tournament. We had another 20 teams at a baseball tournament at the North Complex," said Mayor Rick Elumbaugh. Batesville's parks and facilities bring thousands of additional people to Batesville, all of whom are spending money at local restaurants and hotels.
For six years, signage at the Community Center wasn't in the budget. "We opened this building back in 2017. It took six years for us to be able to get a sign, and that is in great thanks to our wonderful partner, First Community Bank," said Jeff Owens, Parks and Recreation Director. Mayor Elumbaugh explained how it happened: "Mr. Tommy Bryant, City Councilman, approached me and asked if he could go to Mr. Cole, Chairman and CEO of First Community Bank, and visit with him. I said, 'Here we go again'. Mr. Cole has never told the city of Batesville 'no'."
"We are blessed in the amount of support that they have given to us over the last several years," said Owens in reference to First Community Bank. "It has added up to several hundred thousand dollars. We couldn't do the things that we do without their support, and I'm just here to say thank you. Mr. Cole and Mr. Dover, thank you very much for all your continued support."
Ambassadors in attendance included: Amanda Bledsoe (Network of Community Options), Mary Duvall (Bad Boy, Inc), Amy Crouch-Howard (Weichert, Realtors - The Property Shoppe), Justin Keister (Syngery, HR LLC), Jennifer Drummond (ProLand Title), Eva Henriksen (Merchants & Planters Bank), Michael Kelley (Peco Foods), Christina Watts (LaCroix Precision Optics), Tammy Foster (First Community Bank), Peter Rouiler (First Community Bank), Brittney Harris (Independence Off Road), Justin Russell (Bank of Cave City), Lori Campbell (Batesville School District), Jesse Cargill (UAMS), and Kimberly Williams (First Community Bank).