Bad Boy Celebrates Industrial Signing Day with 7 UACCB students
The Batesville Area Chamber of Commerce joined Bad Boy Mowers to celebrate their first annual Industrial Signing Day in collaboration with the University of Arkansas Community College at Batesville.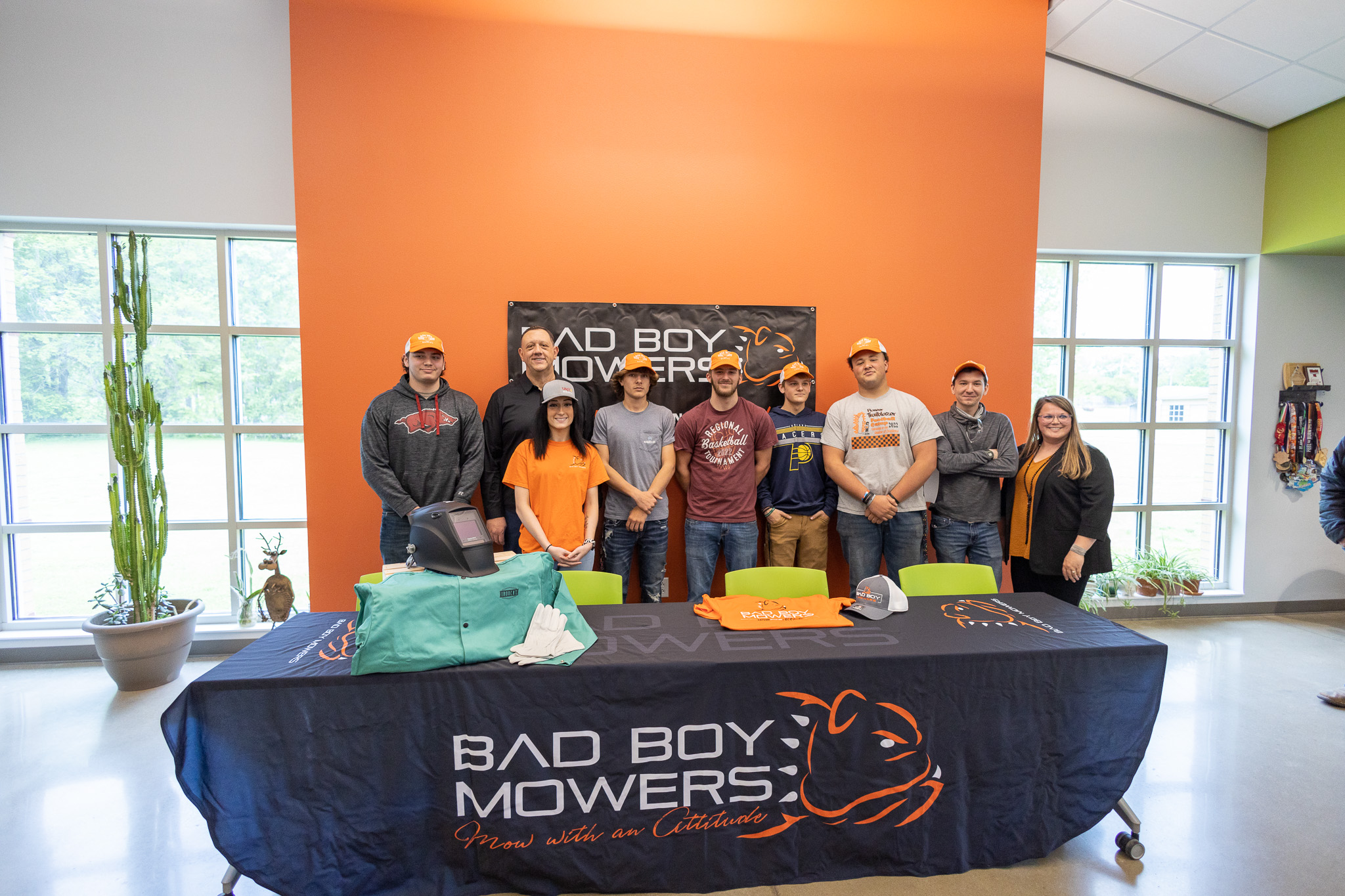 Bad Boy Mowers has built a reputation for building reliable, powerful, and durable mowers for a better value. From zero-turn mowers to handheld equipment and tractors, every Bad Boy Mower is designed to be easy to operate, easy to maintain, and last for years. Located in Batesville, Bad Boy Mowers is sold through a nationwide dealer network.
The event was held to recognize and acknowledge the collaboration between and dedication of Bad Boy Mowers and UACCB to educate and equip students to enter a technical career upon graduation successfully.
"This is such an exciting opportunity to strengthen our industrial pipeline, and I know it takes a lot of strong leadership to make projects like this successful," said BACC CEO Crystal Johnson. "We thank our partners in education at UACCB, a dedicated and strong work ethic from our amazing students, and a willing and always supportive industry partner with Bad Boy Mowers."
The collaboration came about from discussions between UACCB and Bad Boy Mowers on improving the college's industrial technology program, specifically the welding program.
"We discussed some specific things that we could do inside the classroom, inside the laboratory, but we also discussed getting students exposed to that industrial environment," explained Zach Harber, Dean of Workforce Education at UACCB. The exposure would help students become comfortable asking "the right questions, to the right people, and get the right answers to make a decision on what they're going to do with their careers," continued Harber.
One of the goals of the Industrial Signing Day was to promote and encourage the pursuit of technical careers and thereby create a pipeline of future skilled workers for local industries.
Bad Boy Mowers HR Manager Jason Carson expressed thanks for what their partnership has provided: "It cannot be overstated the partnership that we've been able to create with UACCB as they provide value not only to Bad Boy but to many organizations in this region. We are lucky to have them here. They allow Bad Boy to compete on a large scale against many companies throughout the U.S., and we can do that while experiencing tremendous growth in Batesville. We're very lucky and appreciative of that relationship."
They then proceeded to the signing portion of the event, where seven UACCB welding program graduates signed employment offers with Bad Boy Mowers.