Spring River
Emerging near the Missouri border in north central Arkansas, the Spring River has been described as the state's most dependable natural stream. Mammoth Spring, flowing at over nine million gallons of 58-degree water per hour, serves as the headwaters for the river and provides plenty of fresh water throughout the year. The river is crystal-clear, with long pools and whitewater falls. The scenery is mostly hardwood forest with some rocky bluffs. Access is from U.S. 63, which parallels much of the upper Spring. The constant flow from Mammoth Spring makes the Spring River one of the state's best year-round floats even during the summer months when river levels tend to fall.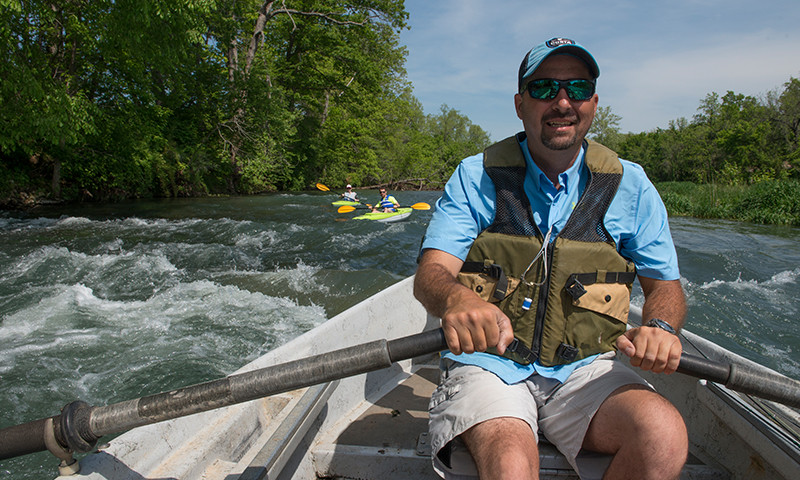 Trout and walleye fishing are rated tops, and floating between Mammoth Spring and Hardy is excellent for beginning and intermediate canoeists. Many areas of the upper Spring River are popular with fly fishermen. Outfitters and launch facilities are available along the Mammoth Spring-Hardy stretch (17 miles). Spring River is unique among Arkansas trout streams; its cold water comes naturally from a spring rather than artificially from deep within a man-made lake. Every hour, Mammoth Spring releases nine million gallons of 58-degree water, and the river stays cold enough to support a good trout population for 10 miles downstream.
The three-mile stretch from Mammoth Spring to Dam 3 (an old hydropower structure) is ideal for wading or fishing from the bank, except for the deep section near the dam, which provides good boat fishing.
Bank fishing is limited below Dam 3, both by streamside topography and the fact that both banks of the river are privately owned. There's a small wade-fishing/bank-fishing area alongside the Arkansas Game and Fish Commission's Spring River Hatchery, but aside from this area, the best way to fish the river downstream from the dam is from a canoe. Rentals are available near the hatchery, or you can launch your own at the public ramp.
The first three miles below Dam 3 provide the best action and the biggest fish. One-pound to three-pound rainbows are fairly common, although most fish are recently released stockers. Brown trout provide a trophy-trout facet to the river's fishing profile. Although you'll find fish in deep-water runs, the best fishing is usually just below riffles and falls.
The Spring is hard to beat for stream walleye fishing. Some sampling surveys in recent years revealed more walleye than trout in the Spring River. Between Mammoth Spring and Hardy, try jigs in the foamy water below shoals and waterfalls. Farther downstream from Myatt Creek to the river's mouth, walleye are scarcer but bigger, with several 12- to 15-pound fish caught in recent years. Boulders and riffle areas are the best spots for catching stream walleye